Fancy bringing some of Hawkins to your home? Well it's time for Stranger Things fans to rejoice, as here at Zavvi we've picked 12 of the best gift ideas for all lovers of the Netflix phenomenon.
This 80's based masterpiece first hit screens around the world in 2016, and it's gone on to become something of a cult classic.
The picturesque setting of Hawkins, the captivating soundtrack, a fantastic set of characters and a scary inter-dimensional monster all contribute to the success of this era defining show, which has significantly raised the bar when it comes to television.
It's captivated audiences for some time now and we're giving you the chance to experience some of the Upside Down with our range of specially selected Stranger Things gifts – you won't find these at the Starcourt Mall.
What do you get a Stranger Things fan?
The huge success of this franchise means that there's plenty of merch and gifts available for Stranger Things fans of all levels.
Whether you're looking to buy something for yourself or a friend, you can find Stranger Things posters, prints, the superb soundtrack, Pop! Vinyl, clothing, mugs and much, much more at Zavvi – giving you new ways to support Eleven, Dustin, Steve, Hopper and co in their battle against the Demogorgon.
Below we've listed 10 gifts we think are ideal for fans of the franchise, and if you're looking for more inspiration, check out our Stranger Things merch.
Gifts ideas for Stranger Things fans
1.
She may have been a devastating casualty in season one, but you can bring Barb back to life with this poster. She may have been taken from us early, but she goes down as one of everyone's most loved characters. So if you're wanting to create a shrine for this special lady, this is a must. In Barb we trust.
2.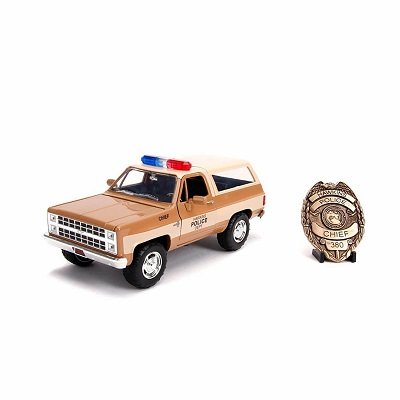 If you're looking to build a Stranger Things collection or add to an existing one, then look no further. Hopper's Chevy racing around Hawkins is one of the sights of the show and you can bring his iconic motor home, along with this pretty neat Sheriff's badge. But don't worry, this doesn't mean you have to go out and fight the Demogorgon.
3.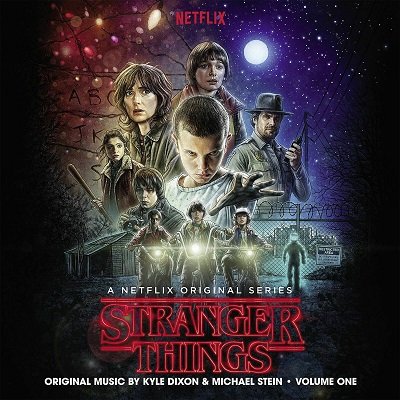 Go back to where it all began with the iconic season one soundtrack. When this show first hit Netflix in 2016 it was like nothing seen before, and it was accompanied by some truly fitting music. This soundtrack will transport you to a different era and make you desperate to re-watch those incredible opening eight episodes once again. A gift that'll go down a storm with your friends.
4.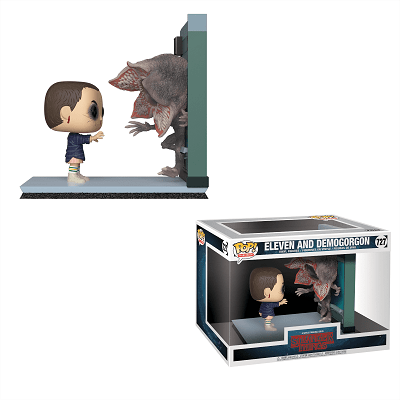 Everyone loves Funko Pop! Vinyl's but not many can quite compete with this one. This unique figure captures a heart stopping moment during an Eleven vs Demogoron battle and it'll make a fantastic addition to any collection.
5.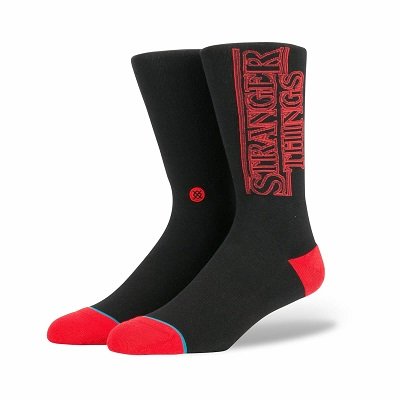 Socks, the present that a lot of people give but the majority dread receiving, but this swanky pair buck that trend. These retro looking socks will transport you back to the 80's and let's be honest, they're pretty damn cool.
6.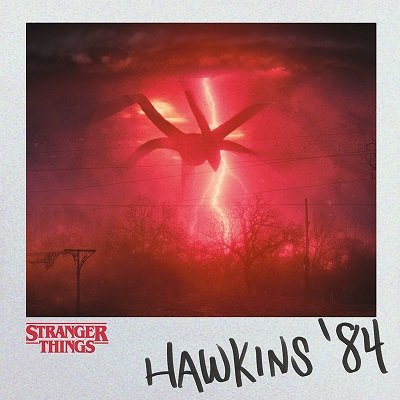 We're not gonna lie here, there are so many Stranger Things posters and prints that we could've picked, but this canvas is eye-catching to say the least. Featuring the Demogorgon in all his glory, it gives a somewhat different view to the usual cute town of Hawkins. Can't say it's making me want to go on holiday there though.
7.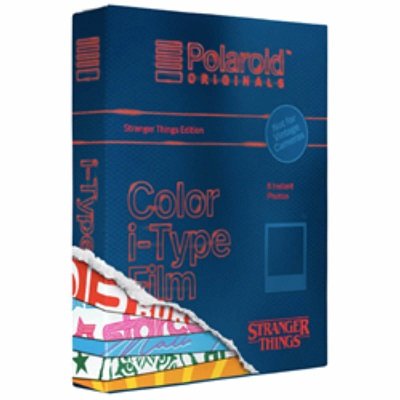 Ever wanted to bring Stranger Things through to your photos? Well these funky Polaroid color films are certainly the way forward. Inspired by some of Hawkins' most iconic spots, these designs will take your Polaroid photos to a new level.
8.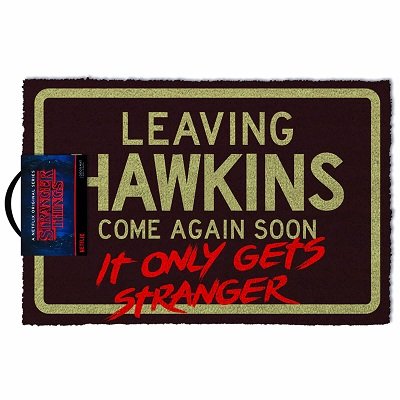 Just when you thought you had seen it all, we've come up with another beauty. Bring some of Hawkins to your home with this Zavvi Exclusive doormat, which is bound to be the envy of your friends and neighbors.
9.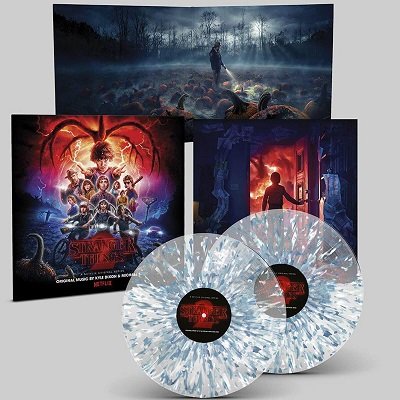 We can't stress enough how good the soundtrack is across Stranger Things, so it won't come as much of a surprise to you to see another one featuring in our list. This special edition features some seriously cool artwork including the likes of Dustin, Mike, Lucas, Nancy and Eleven along with the all important LP's. Coming in a funky looking blue and white splatter design, this both looks and sounds pretty amazing. Super-fans of the franchise would love this as a gift – just sayin'.
10.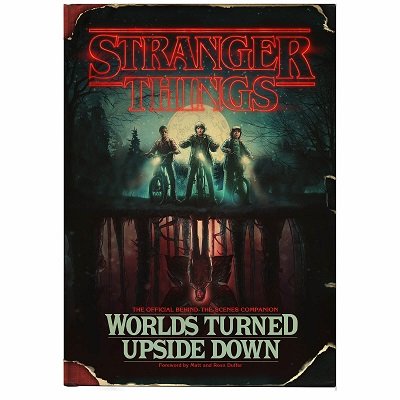 When looking for a gift for a Stranger Things fan, it doesn't get much better than this. This hardback will give them an insight into the makings of the show and what makes it tick. Featuring interviews with the likes of Millie Bobby Brown and David Harbour, original commentaries from creators Matt and Ross Duffer, a map of Hawkins and all sorts of special features, it's pretty awesome! It also includes a copy of the Morse code disk Eleven uses so you can decipher secret messages – pretty cool huh?
11.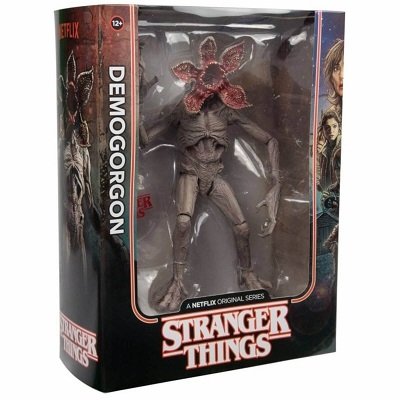 What kind of list would this be without the Demogorgon, right? This monster has been wreaking havoc in Hawkins and getting in some spectacular battles with Eleven for some time now, but he just refuses to go away. Well, now you have the chance to see him for yourself with this freaky Mcfarlane 10 Inch Action Figure – much safer than the real thing.
12.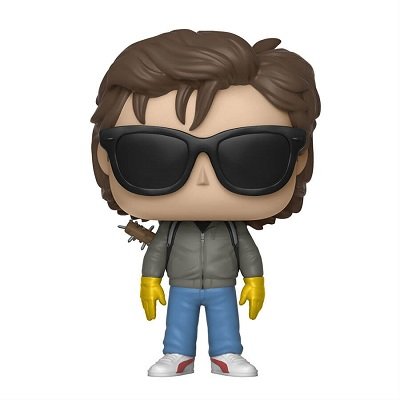 Is there a character who's enjoyed a bigger revival than Steve? He didn't make the best first impression in season one but now we've gotta say he's up there with the best characters. He's a real unsung hero and you can now pick up this Pop! Vinyl featuring his very own 'Lucille' baseball bat. We love this.