Written by Jenny Ho and Michael Adamson
When Christmas comes around, friends and family gather together to enjoy some appropriately festive entertainment.
In the spirit of the holiday season, we've compiled a list of the top 30 best Christmas movies, a list filled with more than a few surprises. The public has spoken, and it looks as though Disney's Frozen is the number-one choice.
The Ultimate Christmas Movies Of All Time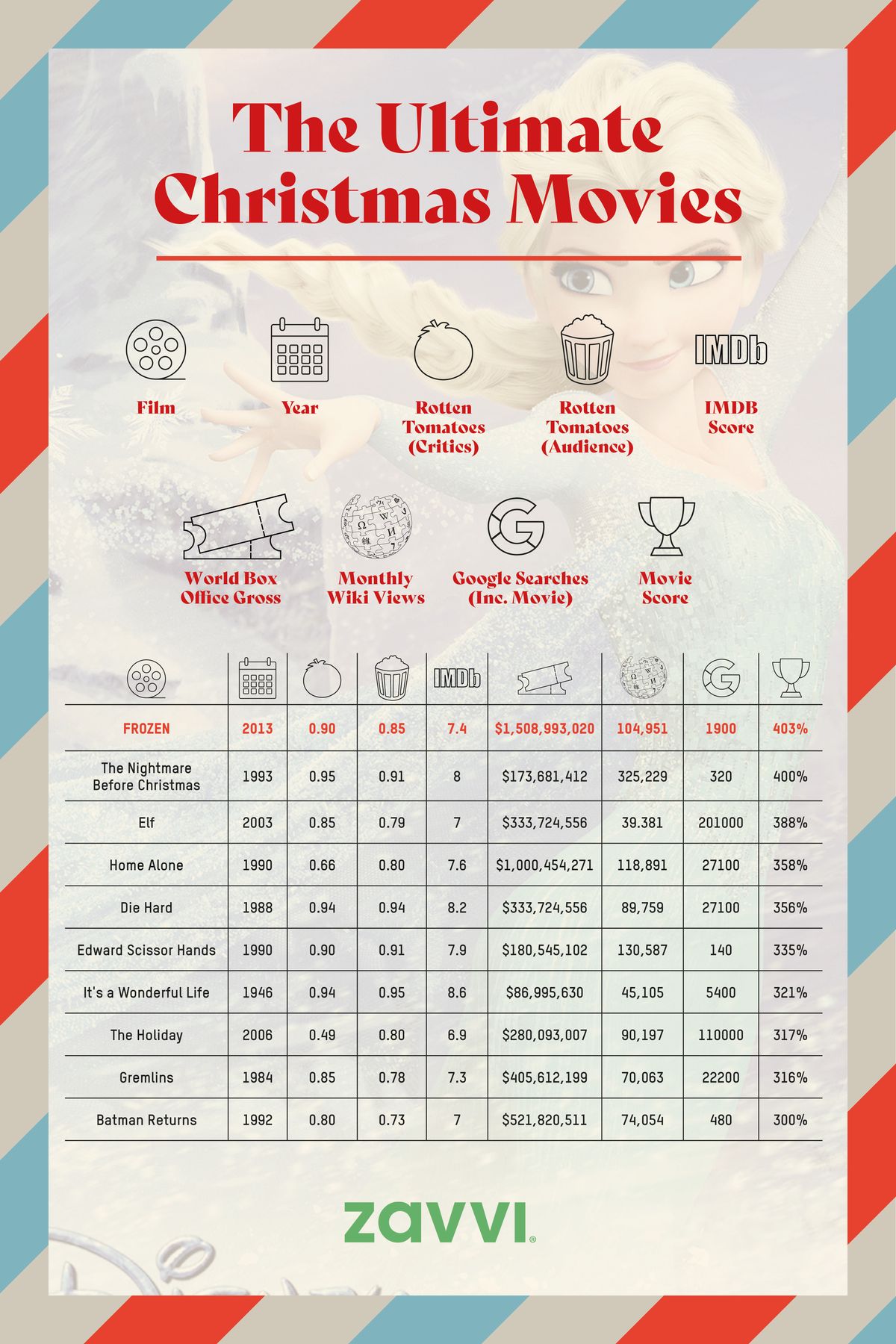 Here you can see the top ten Christmas movies, which have been identified by looking at the criteria outlined. (For the top 30, scroll to the bottom of the article.)
1) Frozen
Coming in at number one is Frozen (2013) with a score of 403%. The movie focuses on Princess Anna (Kristen Bell) as she embarks on a journey to find her runaway sister, Elsa (Idina Menzel), whose icy powers accidently plummeted their kingdom into perpetual winter. Some may disagree with this allocation and say that Frozen is not a Christmas film, the story being set during summer, but one cannot deny the themes. Olaf The Snowman, anyone?
"Destined to be the family hit of the Christmas season, Frozen has all the elements to make it an outright winner." – Louise Keller (a Rotten Tomatoes critic)
2) The Nightmare Before Christmas
With a score of 400%, director Tim Burton's The Nightmare Before Christmas (1993) takes a close second place. An Xmas classic, the film introduces audiences to Jack Skellington (Chris Sarandon/Danny Elfman), the Pumpkin King Of Halloweentown. He stumbles upon Christmastown and becomes obsessed with the holiday, deciding to kidnap Santa Claus (Edward Ivory) so that he can take over. Unfortunately, not everything goes to plan.
"This is a modern classic that enriches the Christmas tradition by turning it on its head and spinning it like a bob." – Richard Harrington (a Rotten Tomatoes critic)
3) Elf
Elf (2003) steals the third position, scoring a respectable 388%. This festive movie captures the spirit of the holiday season perfectly as Will Ferrell assumes the role of Buddy, one of Santa's not-so-little helpers. Having discovered that he isn't actually an elf, this charming and hilarious protagonist goes on a journey to find his biological father.
"Ferrell is a hoot. So is much of this witty holiday family entertainment, which, up until the end, when the 'true spirit of Christmas' must be reaffirmed, happily favors slapstick over treacle." – David Ansen (a Rotten Tomatoes critic)
Which Movie 

I

s

 

The

 Most Popular According 

T

o

Worldwide Box-Office Gross?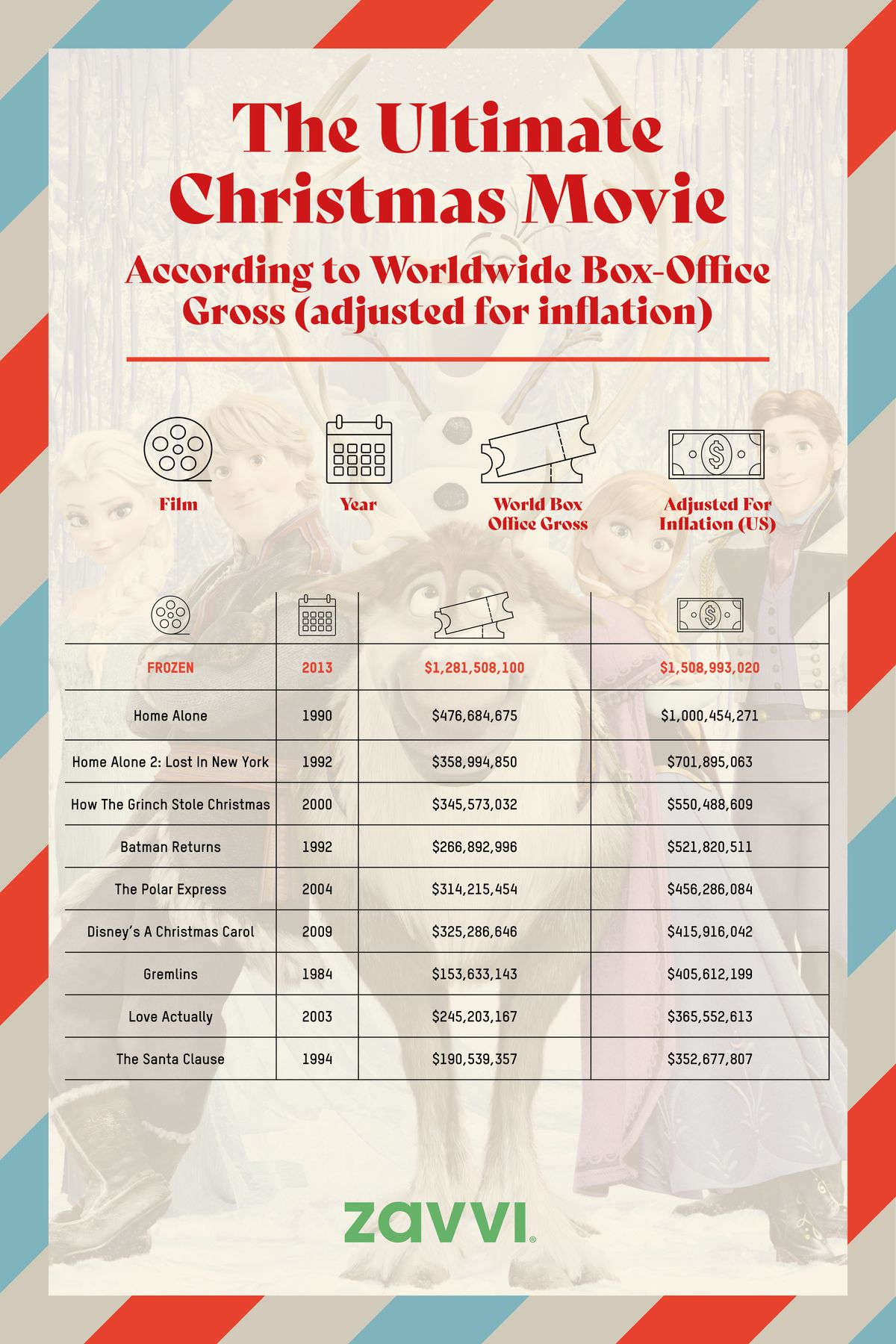 By analysing the worldwide box-office gross (adjusted for inflation), we have been able to compile the US domestic rankings for the 30 most popular Christmas movies. This provides a fair and accurate picture of which movies have remained popular throughout the years.
Here is the top five: Frozen, Home Alone, Home Alone 2: Lost In New York, How The Grinch Stole Christmas, and Batman Returns.
In 2013, Frozen (which is again ranking at the top of the list) boasted a worldwide revenue of $1,281,508,100. When adjusted for inflation (as of 2021), this totaled $1,508,993,020. Home Alone, on the other hand, went from $476,684,675 to $1,000,454,271 — a substantial increase.
Which Movie 
I
s 
The
 Most Popular According 
T
o
Search
 Data
?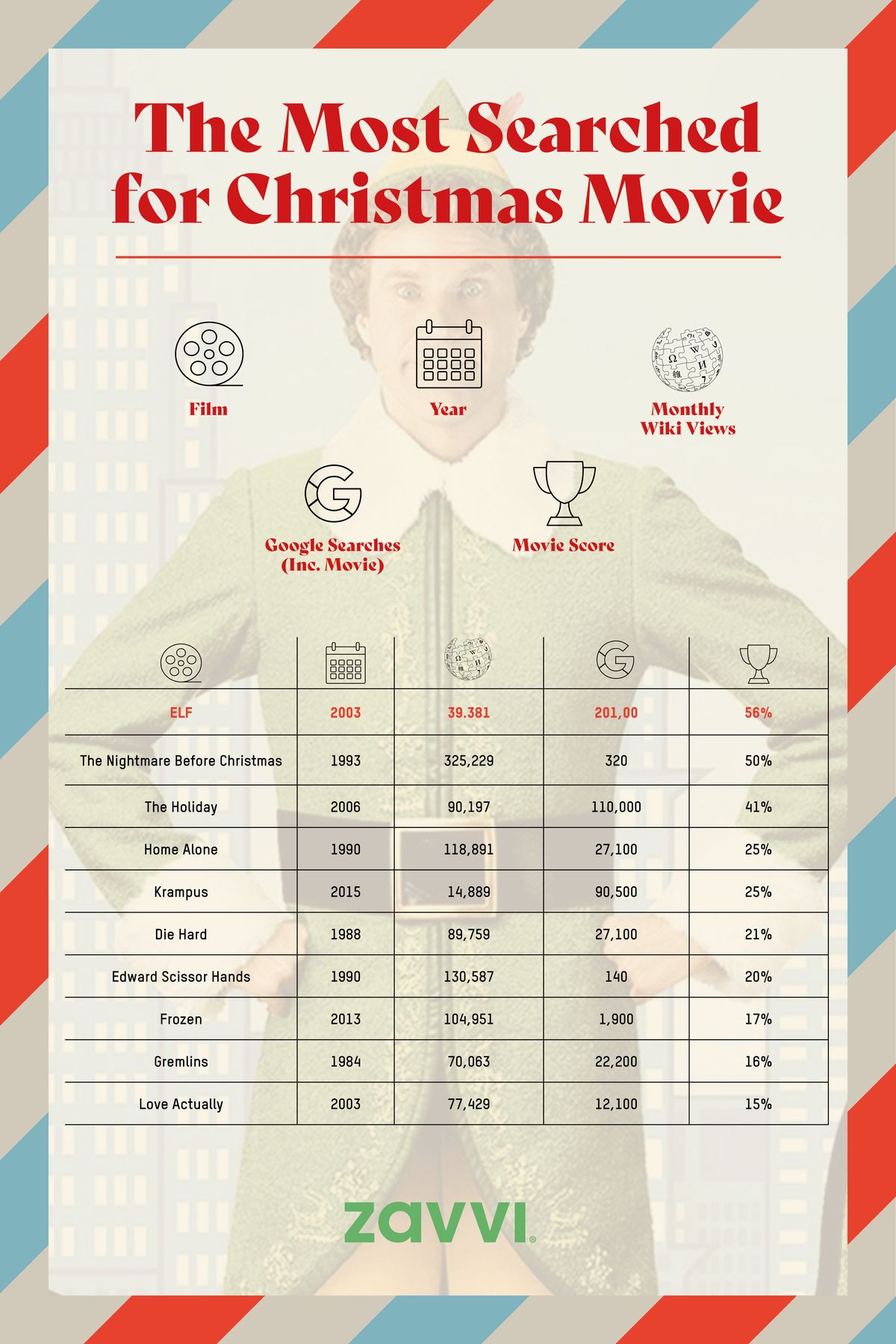 Elf and The Nightmare Before Christmas have once again seated themselves at the top of the list, taking positions one and two in the most-searched-for Christmas movies (with scores of 56% and 50%, respectively).
However, we have a new contender for position three: The Holiday. This romantic comedy has achieved a score of 41%, providing audiences with a romantic watching experience as two strangers — Iris (Kate Winslet) and Amanda (Cameron Diaz) — swap homes and encounter the loves of their lives.
These scores were given by using a weighted ranking system. After being measured against two criteria (Wikipedia views and Google searches), they were then rated out of 100.
Which Christmas Movie 

I

s 

The

 Most Popular 

According 

T

o

 Critics

?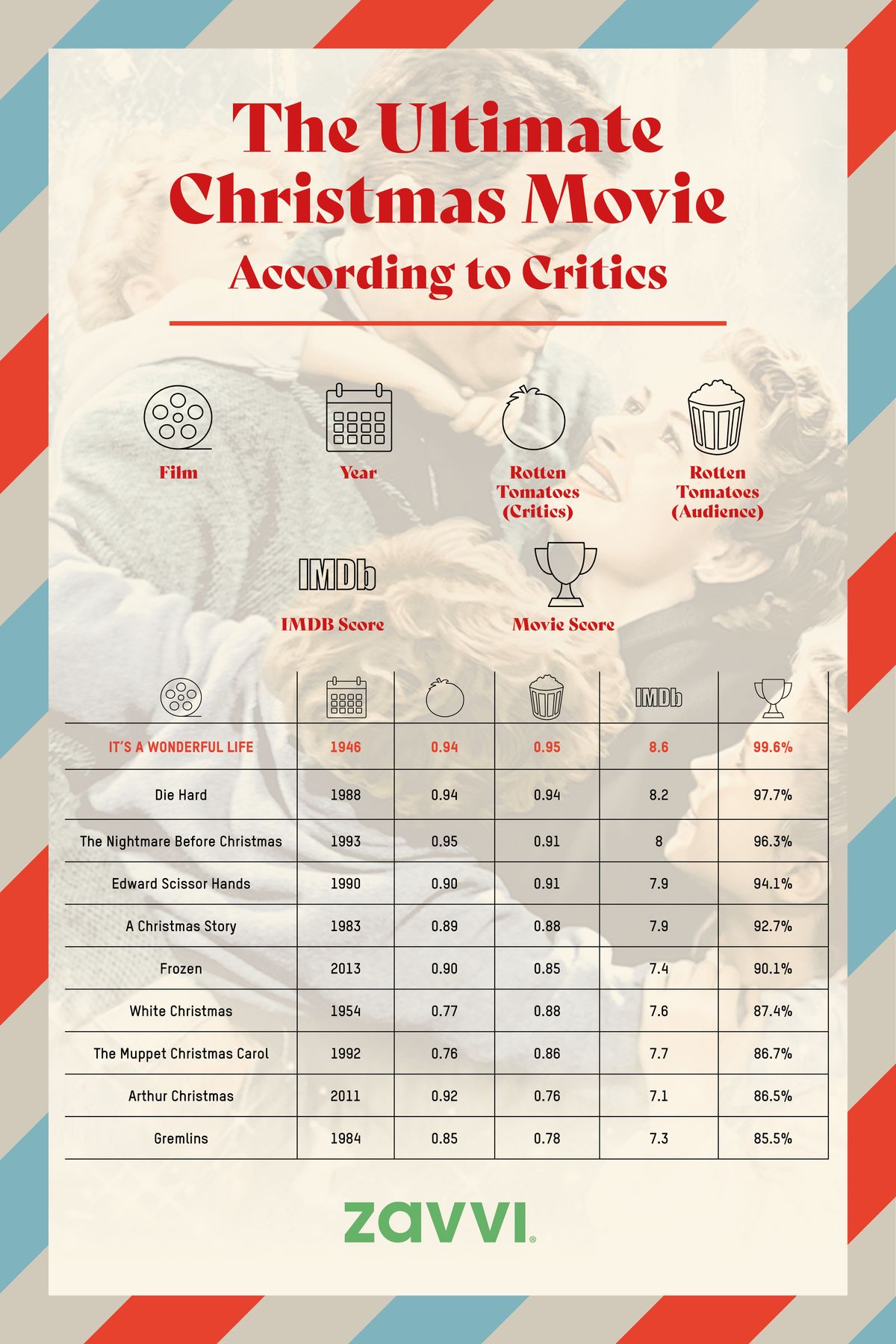 Rotten Tomatoes critics have spoken, naming It's A Wonderful Life as the world's favorite Christmas movie. Not far behind is Die Hard, followed by The Nightmare Before Christmas in third.
Using a weighted ranking system, each movie has been given a score against three criteria: Rotten Tomatoes critics, Rotten Tomatoes audience, and the IMDb rating. These were then used to calculate the final score, which was rated out of 100.
Methodology
To create this we list, we gathered 30 of the most popular Christmas movies with an IMDb score of above five. We then looked at six key areas: Rotten Tomatoes critics and audience, IMDb score, Google searches, Wikipedia page views, and worldwide box-office gross (adjusted for inflation).
With this data, we gave each movie a score out of 100, using a weighted ranking system to identify the definitive Christmas movie.
The Full Breakdown

For all things pop culture and the latest news, follow us on Instagram, Twitter, Facebook, YouTube, and TikTok.