Written by Jenny Ho and Michael Adamson
The realm of trading card games (TCGs) is often considered a niche hobby, but there's an undeniably committed group of fans behind it.
Throughout the history of TCGs, several big names — such as Pokémon and Yu-Gi-Oh! — have dominated the industry, and Magic: The Gathering (MTG) ranks among them.
Launched in 1993, MTG is an innovative fantasy game owned by Wizards Of The Coast. Its creator was Richard Garfield, a mathematician and game designer inspired by the tabletop role-playing game Dungeons & Dragons (D&D), which sees players crafting their own stories.
After being distributed to the market, MTG found an immediate audience, its stock — said to be a year's supply — needing to be reprinted with speed.
This passion remains present after nearly 30 years, and constant evolution ensures that new fans are being drawn toward this world of the fantastical.
For decades, we've witnessed the world-wide growth of the MTG franchise, but which country do you think plays the most and least? To uncover the statistics, we looked at regional and worldwide Google Trends data, focusing on the term "Magic: The Gathering".
This provided the necessary information so that we could compile a ranked list of countries whose residents show the most interest in the game.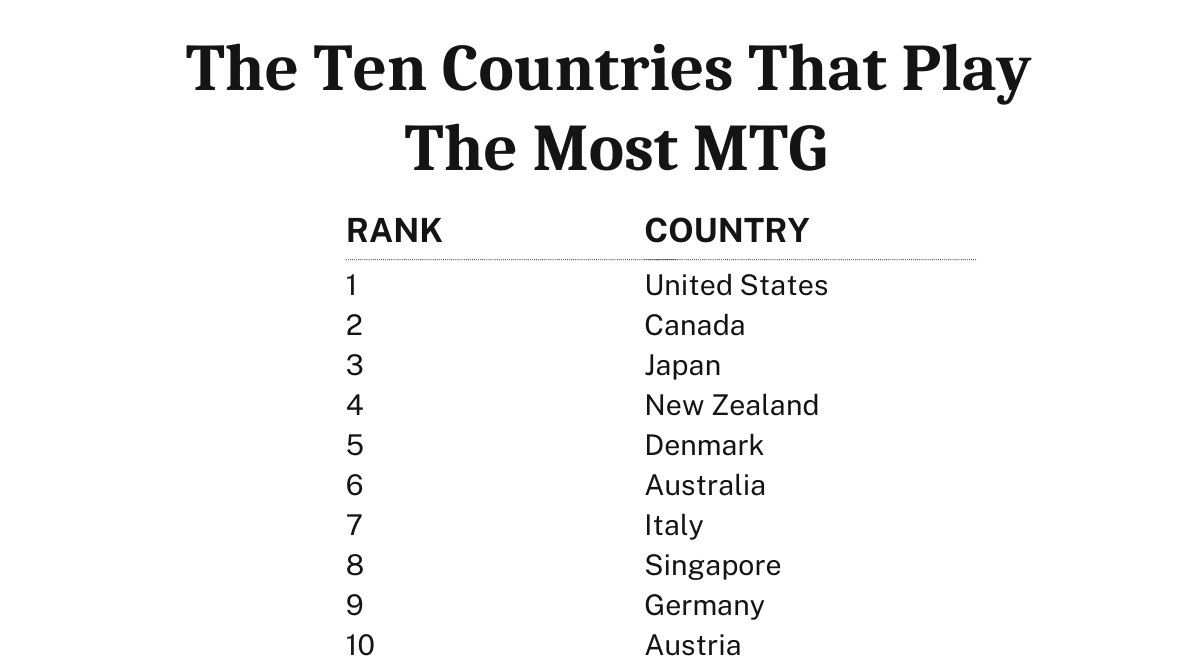 In this study, the United States takes the top spot on the list of countries addicted to MTG, surpassing the other 44 locales analyzed.
This comes as no surprise, as the US also boasts the highest search volume for multiple franchises with similar audiences, including Star Trek, Star Wars, and D&D.
Canada secures the second-place spot, followed by Japan in third. Again, this list offers few surprises, with both countries known for their obsession with pop culture.
Showing the least interest in MTG is Malaysia, which steals the top spot on this follow-up list.
The more eagle-eyed ones of you will notice that these ten countries are situated in the East, showing a marked disparity between geographical location.
For more fantasy content, shop our wide range of Magic: The Gathering merchandise.