Spider-Man's rogues' gallery is one of the most extensive in comic books, featuring characters who are both widely known and obscure.
Several of the Wall-Crawler's rivals have filled the role of principal antagonist for Spidey films and appeared — or are set to appear — in their own solo projects, such as Tom Hardy's Venom and Jared Leto's Morbius.
That said, the question remains: who is the most popular Spider-Man villain? Keep reading to discover our complete list of the top ten, which is based on a combined total of Instagram hashtags (I) and online search volume (V).
1) Carnage (Total: 85,398) – #12,398 (I) / 74,000 (V)
A worthy adversary of Spider-Man (Peter Parker) and Venom (Eddie Brock) alike, Carnage made his first appearance on the pages of The Amazing Spider-Man #361 (1992), spawning from Brock's symbiote during his escape from prison.
Cletus Kasady, a notorious serial killer and the cellmate of Brock, bonded with Venom's red-colored offspring and subsequently used his newfound power to terrorize the Marvel universe.
In 2021, the criminal appeared in Venom: Let There Be Carnage, the direct follow-up to Hardy's first movie in which he portrayed the eponymous lead character.
Kasady (played by actor Woody Harrelson) has since grown in mainstream popularity, and this makes him a suitable villain for the top spot on this list.
2) Black Cat (Total: 70,137) – #15,137 (I) / 55,000 (V)
Felicia Hardy (otherwise known as Black Cat) is a character that often attracts comparison to Catwoman, a long-standing DC Comics' anti-hero.
Nevertheless, this jewel thief is no less popular among Spidey followers, having firmly established herself as a fan favorite since being introduced by Marv Wolfman and Keith Pollard in 1979.
Like the feline of Gotham City, Black Cat has an interesting relationship with her neighborhood superhero. Her preferred pastime is thieving, but the enigmatic allure of Peter Parker's masked identity often inspires her to abandon her criminal profession and join the side of good… temporarily.
3) Venom (Total: 42,670) – #7,670 (I) / 35,000 (V)
Having launched his own film franchise, Venom has come a long way since his underwhelming live-action appearance in director Sam Raimi's Spider-Man 3 (2007), a popcorn flick that saw Topher Grace playing a somewhat vexing interpretation of Eddie Brock.
Hardy's updated approach might not resemble the Spidey-hating symbiote to which many original fans grew attached — his version embracing the character's modern anti-hero status, which was established in the six-issue comic series Lethal Protector (1993) — but the back-and-forth arguments between Venom and his host ensure that he is just as entertaining.
4) Morbius (Total: 39,496) – #496 (I) / 39,000 (V)
Dr. Michael Morbius, the Living Vampire, is much like Venom – a Spider-Man villain who often takes the path of the anti-hero.
Created by writer Roy Thomas, he is presented as a sympathetic character, having developed his vampiric condition while attempting to cure his degenerative blood disease. Sadly, his thirst for blood put him on the receiving end of the Wall-Crawler's web shooters, and the two became on-off enemies.
Outside of the comics, Leto plays the role of Morbius in a live-action movie set in the same continuity as Hardy's Venom franchise. The story closely follows its source material, exploring how he developed his vampiric affliction.
5) Mysterio (Total: 23,469) – #469 (I) / 23,000 (V)
Known as a man of many illusions, Quentin Beck (Mysterio) is instantly recognized by his distinctive headpiece, one that isn't so dissimilar to a fishbowl.
Most movie-going audiences will remember the villain from Spider-Man: Far From Home (2019), in which Jake Gyllenhaal stepped into the mo-cap shoes of this silver-tongued "hero". However despicable he may be, one cannot deny that he left a lasting impression.
6) Kingpin (Total: 20,304) – #304 (I) / 20,000 (V)
Nowadays, Kingpin has a reputation of being an antagonist of Daredevil, the character having featured prominently in the Man Without Fear's comics and Netflix television series.
Despite this fact, Wilson Fisk (his real name) originated in The Amazing Spider-Man #50 (1967), so he is first and foremost a Spider-Man villain.
7) Vulture (Total: 14,289) – #289 (I) / 14,000 (V)
Adrian Toomes (the Vulture) is a decades-old character and one of the original members of the Sinister Six, a team composed of Spider-Man villains. As such, his reputation is that of being a fearsome foe of New York's local hero.
Some fans will know Toomes from the Marvel Cinematic Universe (MCU), the bird-themed supervillain having been portrayed by Michael Keaton in Spider-Man: Homecoming (2017).
8) Rhino (Total: 12,407) – #407 (I) / 12,000 (V)
A brutish character with nigh-impenetrable skin, Aleksei Sytsevich (the Rhino) is another example of Peter Parker's animal-inspired enemies.
He gained his abilities from an experimental procedure by the Eastern Bloc, but he soon repurposed these gifts for his own devices, returning to a life of crime. Naturally, his illicit activities triggered the Wall-Crawler's sixth sense, and the pair clashed in spectacular fashion.
Like many of his peers, this Spider-Man villain has made the jump to the big screen, appearing opposite Andrew Garfield's Peter Parker in The Amazing Spider-Man 2 (2014). However, this version of the character forgoes his experimental origins and introduces a mechanical suit resembling a rhinoceros.
9) Sandman (Total: 12,173) – #173 (I) / 12,000 (V)
Flint Marko (Sandman) possesses the unique ability to transform himself into sand, which allows him to shape his ligaments as weapons and absorb the powerful hits that Spidey can dish out.
His criminal background cast aside, Sandman has started to transition to the side of good, and this moral ambiguity was explored in Spider-Man 3, in which Thomas Haden Church played Marko.
10) Prowler (Total: 11,045) – #45 (I) / 11,000 (V)
At the end of our list, we have the Prowler. There have been many individuals who have donned the purple mask; however, the most familiar of these is likely Aaron Davis, who had a notable role in the critically acclaimed animated movie Spider-Man: Into The Spider-Verse (2018).
Voiced by Mahershala Ali, this version of the Prowler works as an enforcer for the Kingpin (Liev Schreiber) and comes to blows with his spider-powered nephew, Miles Morales (Shameik Moore).
Methodology
To obtain these results, we searched for Instagram hashtags that included each villain's costumed alias and the word "Marvel". Once this data had been acquired, we combined the number with the average global search volume (available on Ahrefs) and calculated the total by which the list was organized.
The Full Breakdown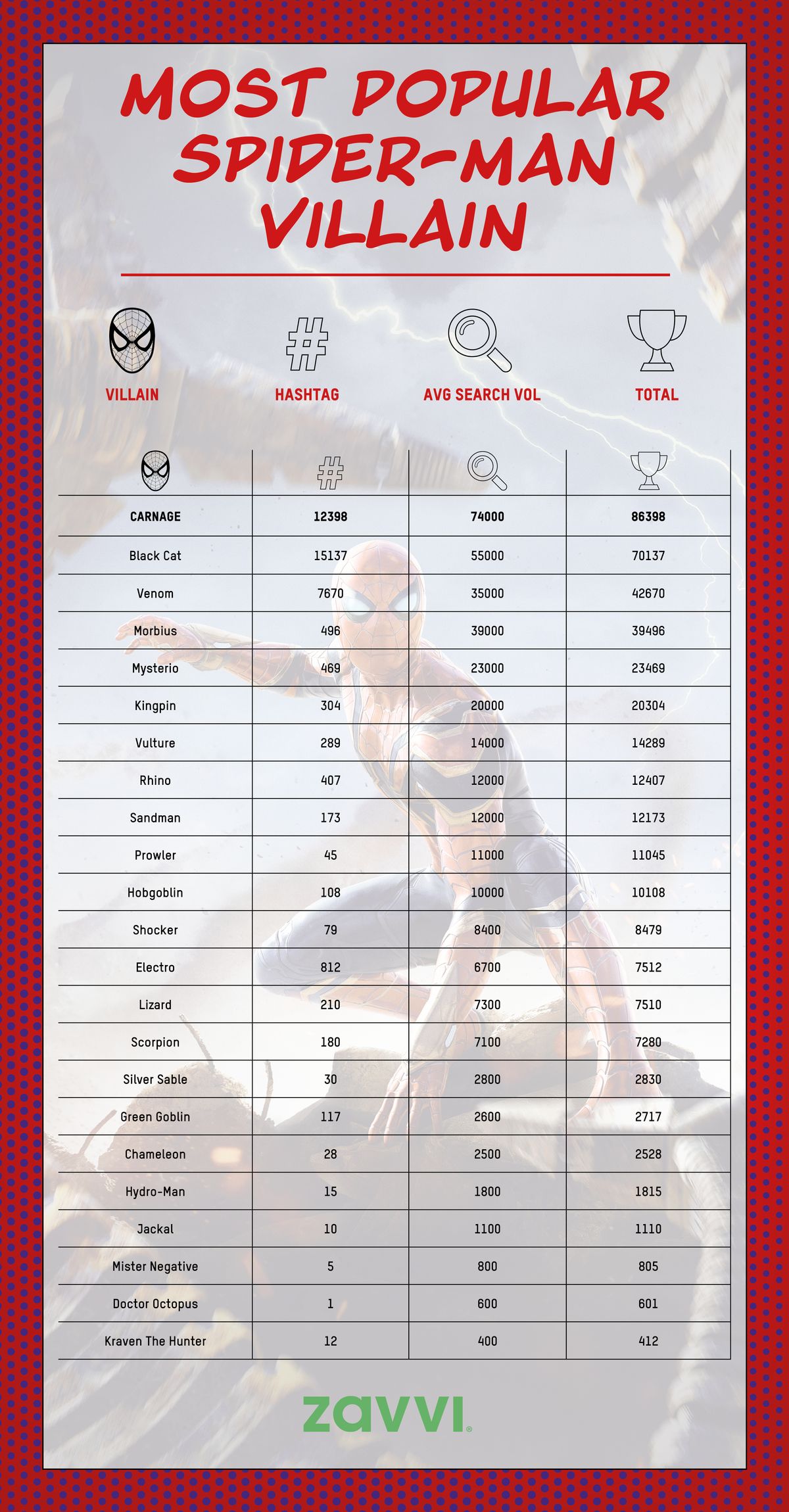 Shop our range of Spider-Man merchandise here.
For all things pop culture and the latest news, follow us on Instagram, Twitter, Facebook, YouTube, and TikTok.